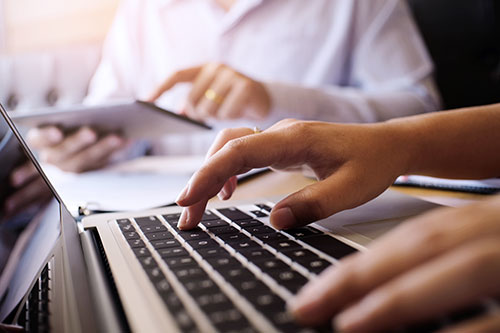 When writing UX copy within industries like finance and tech, accessibility is always a top concern. Your copy is likely littered with industry-specific terms, and there may be regulation governing the type of language you use.
The urge to make your copy more user-friendly could take you down the path of using interchangeable terms across your product. The problem is that using interchangeable language can conflict with the holy-grail UX rule of keeping your copy consistent. There are a couple of workaround for this, but first, it's worth looking at why both clarity and consistency are important.
Consistency reduces cognitive load

In UX writing, consistency means defining the perspective, style, and tone of voice that your brand will use. You should define this as early as possible in your product's lifecycle. The task is then to stick to these guidelines across your product and other communications. That doesn't just include your website or apps, it also encompasses the emails or texts that you send your users.
The main benefit of writing consistent UX copy is that consistency improves your users' experience. If you establish reliable patterns across your platforms, they'll instinctively know what certain design components and language mean. Giving your users less work to do reduces their cognitive load – the amount of thinking power they need to use to complete a task. Ultimately, this will make your products and services more enjoyable to use.
Prioritising clarity in your copy

It's a little easier to understand why writing clear copy is a vital ingredient of any good UX content. One of the key factors that differentiates UX writing from other writing disciplines is that it puts users at the centre of all the content that a brand produces.
The ultimate objective is to ensure that everyone reading your copy is able to understand it and accomplish their tasks seamlessly. If your copy is unclear, you'll simply lose customers. You have a limited window of your users' attention to convince them that your product or service is worth using. If they spend half of those precious seconds feeling confused or unsure what to do, they'll simply move on and find an alternative product or service elsewhere.
Can I use interchangeable terms in my copy?
In short, yes, but it's only advisable in certain circumstances.
Consistently using the same terms will always benefit your users because it gives them less work to do. With that in mind, it's best to identify your key terms and stick with them, even if they're industry-specific. Once you've done that, there are a few ways that you can educate your users on what your jargon means:
Include the definition of the term, or a simpler version of it, within the copy in brackets
Provide tooltips to give users a quick definition of difficult terms, without interrupting their journey
Use a sidebar if you need to give users a more detailed explanation of a term
Create a guide within your product with definitions of key terms
One exception to this rule is when you're writing copy for a specialised audience, for example medical or financial professionals. These audiences will likely be familiar with both the simplified and specialised language, and will expect your copy to include some jargon and interchangeable terms. For example, those within the medical field are likely to be comfortable with 'clavicle', just as they would 'collarbone'.
To ensure that your copy is still intuitive and user-friendly in this context, include educational components, as described above. But if the audience you're writing for are familiar with a range of terms, and using them interchangeably is beneficial to your copy, then it's fine to do so.