The internet was in a frenzy in March after Martin Lewis urged thousands of consumers to submit their energy meter readings ahead of the 1 April 2022 deadline. As customers of the UK's biggest energy companies clamoured to send their readings in on 31 March 2022, their servers crumbled under the pressure – the websites of Bulb, British Gas and EDF, among others, crashed for most of the day. While the disappointment of uncooperative websites was enough to reckon with, angry customers were then met with unhelpful error messages to try and decode what was going wrong. This scenario was a great reminder of how important error messages are as a means of communication.
Error messages are the first thing your users see when they encounter a problem with your product. Oftentimes, companies use informal error copy in an effort to lighten the mood, and soften their users' potential distress that something has gone wrong. This method has long been the approach by big tech brands, such as Google and Netflix, who use quirky error copy as a lighthearted way of telling users they've "hit a bump in the road". However, this often won't work well if you're a consumer brand.
Whether it's energy, healthcare or insurance, in most cases, customers are only interacting with consumer products because they need to get something done – the average person won't log into their energy account to window shop. This typically means that the stakes are higher and their window of time to use your product is smaller. So, if something goes wrong, such as a failed payment, or a meter reading not being submitted before a deadline, "Oops!" doesn't quite match how they're feeling. In fact, it can create a lasting negative view of your brand.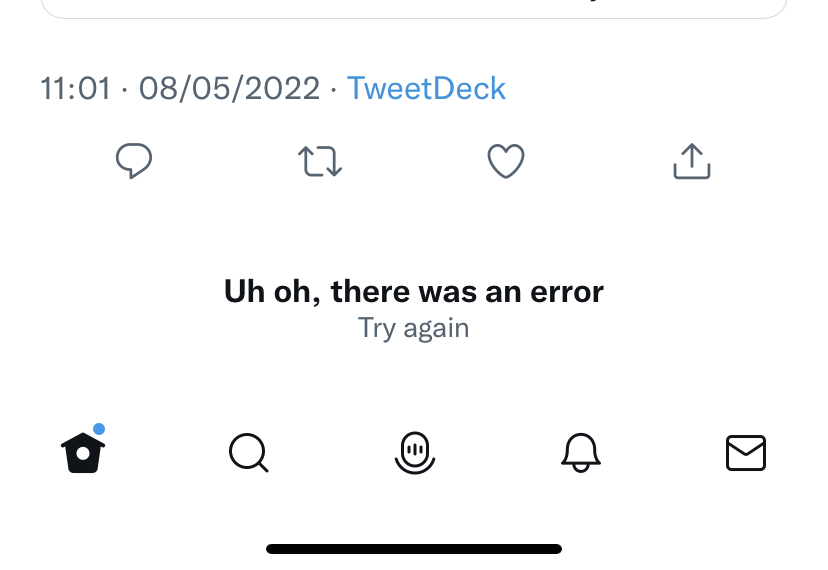 To avoid causing this frustration, here are five golden rules to follow when you're writing error message copy:
1. Keep your error messages short
Users will only see your error message copy when something has gone wrong, and they'll want to continue with their journey as soon as possible. Keep your error messages concise, and only include the necessary information – users aren't interested in reading a long explanation.
2. Always include a call-to-action (CTA)
This is linked to the first rule, but all your error message should include two things: information telling the user what the problem is, and a CTA that directs them to a solution.
As we've concluded, when a user encounters an error, their main concern is how to get away from it. It's your job to get them back on the happy path to task completion. Whenever you're writing error messages, make sure that you include a clear direction on what the user should do next. If you're providing them with more than one option, keep it simple. For example, "please refresh the page, or try again in five minutes".
3. Avoid playful copy without a purpose
It's always tempting to stick an "Oops!" or "Whoops!" at the start of your error message to keep it "fun". But ultimately, it won't help your users when they're trying to finish a task, and they may even find it annoying. Try to keep your error messages direct, and cut out the filler copy.
4. Avoid exaggerated use of punctuation
You've likely come across one of these (or similar) error messages before: "Sorry! We can't complete your request!" or "Looks like something went wrong!". The purpose of punctuation is to emphasise a point. If a users' journey has been disrupted, it's safe to assume that they know that there's a problem. Don't overuse punctuation to try to get their attention because exaggerating the problem may cause them distress, and distract them from working on a solution.
5. Consider using dynamic copy
Sometimes boilerplate error messages don't work, and your copy needs to be flexible based on what's caused the error. In these scenarios, dynamic copy is the answer. Dynamic error messages can improve your users' experience by giving them information that's directly relevant to their task.