From a public relations point of view, there's a lot to say about how Phillip Schofield is handling his current crisis. As of June 2nd 2023, he's given two high profile interviews and both appear to have done more damage than good to his reputation. His BBC interview with Amol Rajan in particular appears to have been ill-judged and the former ITV presenter has stoked up fresh criticism by invoking the late Caroline Flack.
Who is Phillip Schofield's Publicist?
According to a May 31st article in the Law Gazette, Phillip Schofield's public relations (PR) is being handled by Jonathan Coad.
Coad is media lawyer and public relations advisor who has worked at Schillings and Lewis Silkin. His most high-profile cases include obtaining an injunction on behalf of the Duchess of York and an injunction he obtained for X Factor judge Tulisa over a sex tape.
Who is advising Phillip Schofield?
As well as receiving legal advice and public relations strategy, Schofield has engaged law firm Mischon de Reya to represent his former colleague and the person around whom this particular scandal centres.
Phillip Schofield's Lost Mary Vape
One of the more unusual elements of Schofield's recorded interview with The Sun was his use of a small, green disposable vape. Schofield has referenced how the stress of this crisis has caused his use of vape to increase and that he has developed blisters on his hands as a result. His crisis vape of choice appears to be a kiwi passion fruit guava Lost Mary vape, manufactured by Elf Bar.
Which, for brand strategists and consumer PR people, raises an interesting questions.
How will this association with Phillip Schofield, during one of his most troubled periods, impact brand perceptions of the Lost Mary Vape?
Well, as of June 2nd 2023, the answer to that appears to be unclear, but if data from Google Trends is anything to go by, people are certainly interested in finding out more.
'Phillip Schofield green vape'
As you'll see from the graph above, search volume for 'Phillip Schofield green vape' spiked around the time of his first interview. This suggests that people noticed the product, were curious, but weren't aware of the name or brand of vape he was using.
The second graph suggests much the same thing, although it could also be due to people searching out other people's opinions on Schofield's use of his vape during an interview.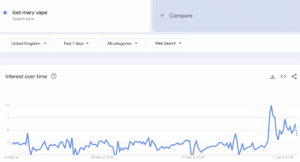 The third graph gives a broader view of search volume in general. Searches for 'Lost Mary vape' have been increasing steadily for a couple of years, but they've enjoyed a particular spike in the past couple of days.
What does this mean for the Lost Mary brand?
An increase in search volume doesn't necessarily translate into increased sales, but in this instance, there don't appear to be many downsides for Lost Mary. We've laid out the fundamentals of what it means below.
Increased brand awareness. Even if the initial association isn't brilliant, the name will be something many people remember, long after they forget why they know it in the first place.
Increased search volume. Search engines don't necessarily care why people are searching for product names, but ranking algorithms definitely do register an increase in brand name search and – typically – this leads to an improvement in organic performance.
Visibility. When a distinctive product is seen by a lot of people at the same time, the context around that scenario is less relevant. Yes, it's not ideal for the brand to be associated at this moment in time with the topics that Phillip Schofield is associated with, but at the same time, Schofield is a rich, intelligent man. So there are secondary optics at play. Regardless of what he is alleged to have done, the fact that a man of his resources and status has chosen this particular brand will inform how other consumers perceive the brand and its products.
Is all publicity good publicity?
No. Bad publicity is definitely a thing. Just ask BP or Delta Airlines. But in this instance, it's more like a product placement than PR. Lost Mary have very little control over how the association with Schofield will impact brand perceptions, and at the moment, brand name searches for their products are returning news results for Phillip Schofield, so a lot of the interest will be going to news websites where before it would have been going directly to their e-commerce channels.
Being associated with a public figure, or even a fictional character, can have long term negative connotations for brands. Steve Coogan, creator the fictional TV personality Alan Partridge, is said to have damaged perceptions of both Rover and Lexus, due to Partridge driving both. And the opposite is obviously true too. That's why celebrities endorse certain brands and why brands pay them a lot of money to do it.