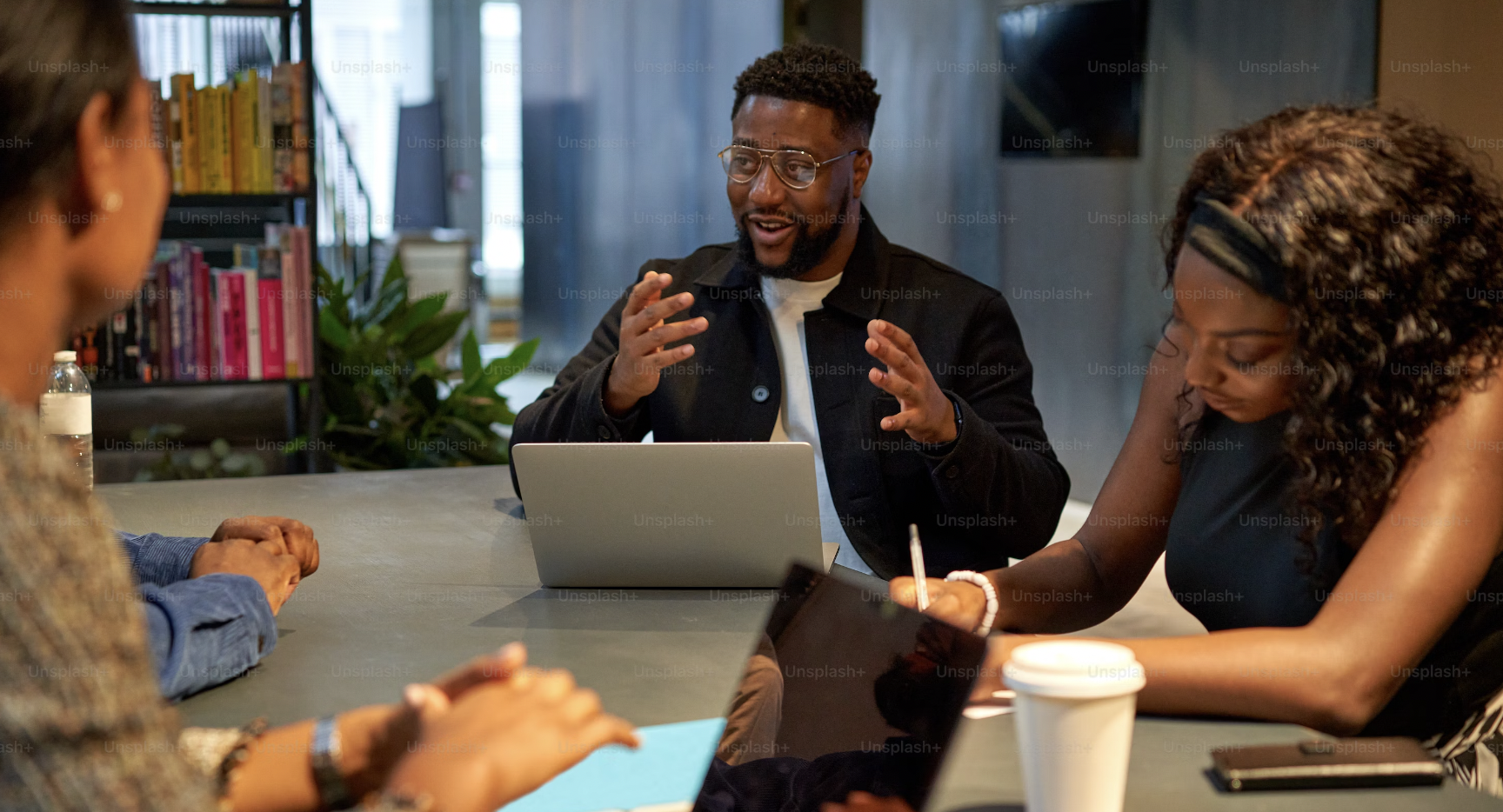 If you've been trying to find out the cost for a PR agency retainer in the UK, the chances are, you meet one of the following criteria:
You are considering a pr proposal from a UK pr agency and want to benchmark it against industry norms

You are a business owner or budgetholder thinking about hiring a PR agency, and you want to understand the budget requirements in more detail before you select a PR agency

You work for or own a PR agency (hi there!) and you are doing some benchmarking of your own
It is also likely, if you have been researching this topic, that you've seen articles claiming to have the answer, which then give a price range so wide that it is functionally useless.
For example, the LinkedIn article that is near the top of Google's results for this query, at the time of writing in November 2023, gives a range of £2,000 to £10,000 per month. That's a potential difference over a year of £96,000. Hardly useful benchmarking data.
So this article sets out to give precise monthly retainer rate estimates for independent PR agencies in the UK in 2024, based on the actual rates companies like yours are currently paying.
Essential Content is a PR agency, so naturally we know what our clients are paying. We also know what they have paid for PR in the past. And we have also been able to paint quite a detailed picture of what other agencies are charging, based on publicly available information.
Our sources for this article include:
Budget expectations from current and past clients.

Disclosed PR retainer rates from partner agencies.
Clutch.co – this is a verified business services review platform. In many of the reviews, businesses disclose their budget or the fees they are paying. We have aggregated those and adjusted for confounding variables, such as location (London costs more) and industry (some industries are simply more expensive to service as a PR agency). It's important to note that some of the fees disclosed by Clutch are rounded up or down and cover only retainers.
In total, our data include PR agency costs from 61 different agencies. All of these agencies are independent of one another. In cases where we have examined rates from PR agencies that are part of a network or holding company, we have averaged the rate to give a more useful picture.
The short answer – how much does a UK public relations agency retainer cost?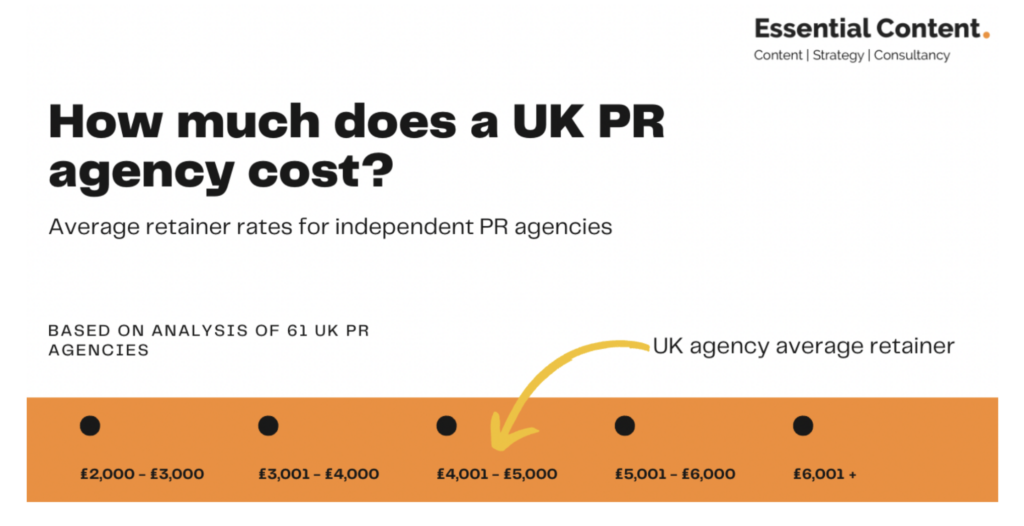 According to our analysis of 61 independent PR agencies for whom we have actual or estimated retainer rates, a public relations retainer in the UK in 2024 will cost £4,672.55 (approximately $6,397.64 USD and €5,464.63 EUR) on average.
£4,672.55 (approximately $6,397.64 USD and €5,464.63 EUR) is the mean PR agency retainer value in our dataset
£3,571 approximately ($4,889.27 USD and €4,182.07 EUR) is the median PR agency retainer value in our dataset.
The typical retainer will include the following:
Research
Content production
Media relations
Outreach
Account management
The typical retainer will NOT include the following, although some did include:
Social media support
Crisis and issues management
Video production
According to our research, the typical make-up of a public relations delivery team looks like this:
4 people
Account manager
Account executive
Content executive
Outreach or media relations specialist
Some of the PR retainers we analysed included involvement from agency partners, often founding partners, managing directors and CEOs. This was typical at smaller agencies, but there was one large agency in our sample where client reviews frequently referenced the involvement of the founding partner.
The important caveat here is that this figure excludes the very largest PR agencies in the UK, such as Freuds, Edelman, Weber Shandwick, Havas and Brunswick. It also excludes global consulting firms that offer PR consultancy services as part of a wider mix.
Why didn't we include these agencies?
With all due respect, and to paraphrase J.P Morgan, 'if you have to ask how much these agencies cost, you probably can't afford them'
How do PR agencies set their rates, fees and retainers?
This varies widely, depending on one or more of the following factors:
Location of agency

Size of agency

Client or brief complexity

Client sector (some sectors are trickier than others)

Appetite for the partnership*

Demand**
Agencies will either prepare a custom fee or retainer rate based on the scope of the brief, assign the brief to one of their fixed (or semi-fixed) 'service levels', or they'll customise a service level to make it fit with a brief.
One interesting thing we did notice during our analysis was the vast disparity between rates charged by the same agencies for different clients. One agency, based in London and well established in the UK, had clients paying fees ranging from just under £2,500 (approximately $3,425 USD and €2,925 EUR) to just over £11,000 (approximately $15,070 USD and €12,870 EUR). That suggests that this particular agency bases its fees on scope, and has no fixed fee structure.
*Sometimes, agencies will not see a client as a great fit, but will take them on anyway. In some cases – not all, by any means – this results in inflated fees. We explain what drives this in our comprehensive guide to selecting a public relations agency.
**This is an important but underestimated factor that really does influence the cost of doing public relations. Agencies typically charge more when they are less in need of the revenue. In fact, when agencies are close to achieving what is referred to as 'full utilisation rate' – aka everyone is busy – their rates start to creep up.